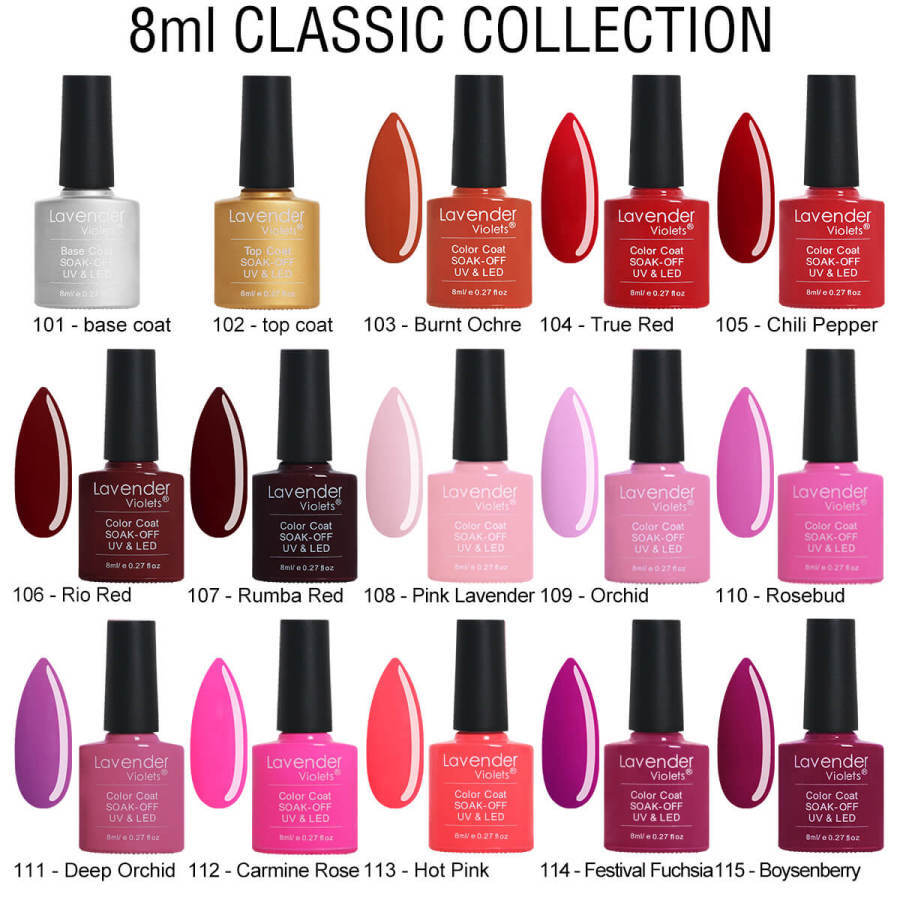 UV LED Soak Off Gel Nail Polish Classic Solid Colors Collection 8ml
$4.99
I just did my nails and LOVE IT! I'm so far from being good at it but this product is so forgiving with wonderful results! I have only used it once but my nails still look great after a week. I would definitely recommend it. You definitely need the UV light nail lamp with it. I will post pics of all products used. P.S. the colors on the outside are very true to the end result on your nail.
This was my first time using gel polish and I'm very impressed! I prepped my nails and made sure to dehydrate them with acetone before starting. I cured each coat (base, 2 coats of color, top coat) for 1 minute. Make sure to cap the tips. I saw other reviews saying it never cured or was still sticky.. know that it will be sticky until you finish with the top coat depending on what you use.. you either need to wipe the sticky layer, or use a no wipe topcoat. Also, I'm very impressed with how long they lasted and the colors I've used were exact to the color on the bottle. Make sure to try really hard not and get it on the skin and clean up before curing as it will sting quite a bit in the lamp.
I've been doing my own gel nails for years now, and just haven't found vibrant colors i really loved yet, until this set. The colors are bold, bright, and vibrant. The application is easy just like all gel polish and even with first coat was even and really pretty. I always stick to my two coats rule, but it looked amazing, and lasted two weeks before I was forced to take it off due to my nails growing too much. HIGHLY recommend this!!!
I really liked how easy it was to apply, the smooth vibrant highly pigmented color, and the topcoats amazing glass-like shine. I want to buy another kit in the same brand. (maybe something with glitter) I was doubtful buying this product because the price is so good. most times you get what you pay for but in this case I was HIGHLY SATISFIED!! I'm waiting to see how long this gel lasts to determine weather to buy thos brand again. (pending results) So far I am 100% happy with this product set. thank you for this amazing price point purchase.
This is a great buy!! I've used many different brands of gel nail polish and this is by far the best. The colors show easily after one or two coats. The nail polish is very shiny and super easy to apply. I'm so happy to have these colors and I look forward to showing them off in my YouTube channel.
This is, hands-down, the best brand of Gel nail polish. The basecoat and topcoat lasted me almost 2 weeks. I am very very hard on my nails, digging in the dirt and I tend to not use gloves. So I am guessing, someone else may make it to three weeks. I am not a professional, I just started doing my own nails because it's too expensive to do every two weeks. I have learned how to prep my nails and I have gotten better at application and making sure that the way I do it, is correct. I am still learning and make dumb mistakes but at least now I don't have gel dried on my skin! 🤣 That being said, I waited until I was pretty good at gel prep and application before rating this. I will say this is probably the best brand you can get outside of being a professional at nail salon and being able to get hoytee toytee gel products from a vender which you would need a license for!
I'm one week into wearing this nail polish while working full time as a nurse. As a nurse, I use my hands all day every day, constantly wash my hands, and put on hand sanitizer all of the time. I haven't noticed any chips after all that. When I did my nails, I only used 1 coat of the color and it looks great. People keep saying that it doesn't cure but it does. I cured each coat individually for 3 minutes with a UV lamp. You need to give it time under the lamp to cure. It is also a no-wipe top coat so you don't need to wipe the tacky layer off. Although the bottles are small, they're going to last a while. All in all, I would buy this product again in a heartbeat.
This product is amazing!!! I loved all the colors! I can wait to try them all! :) Update: I bought this product about 7 months ago. The gel polish is very good quality. If you let them cure properly they will last you 3 weeks with no chips (And I'm a stay home housewife that cleans a lot). I got more gel polish colors from other brands and honestly this ones are much much much better. The colors are beautiful and I would definitely buy from this vendor again although I'm sure it will take a while for me to finish this product because of how good it is. If there were more than 5 stars I would give them more!