Acrylic Dip Powder Dipping System 8pcs 4 + 4 Starter Kit Set for Nail Art Design Colour Kit - Black & Gray J761
5
stars, based on
7
reviews
Price:
$49.99$39.99 / piece
Contact Us
Item specifics
Effect:
Nude Color,Powder,No need for nail lamp
Capacity:
14ml x 4 bottles + 14g x 4 Dip Powder
不能存图片
For salon customers, please contact our customer service staff for the wholesale price list.

Email address:

service@lavenderviolets.com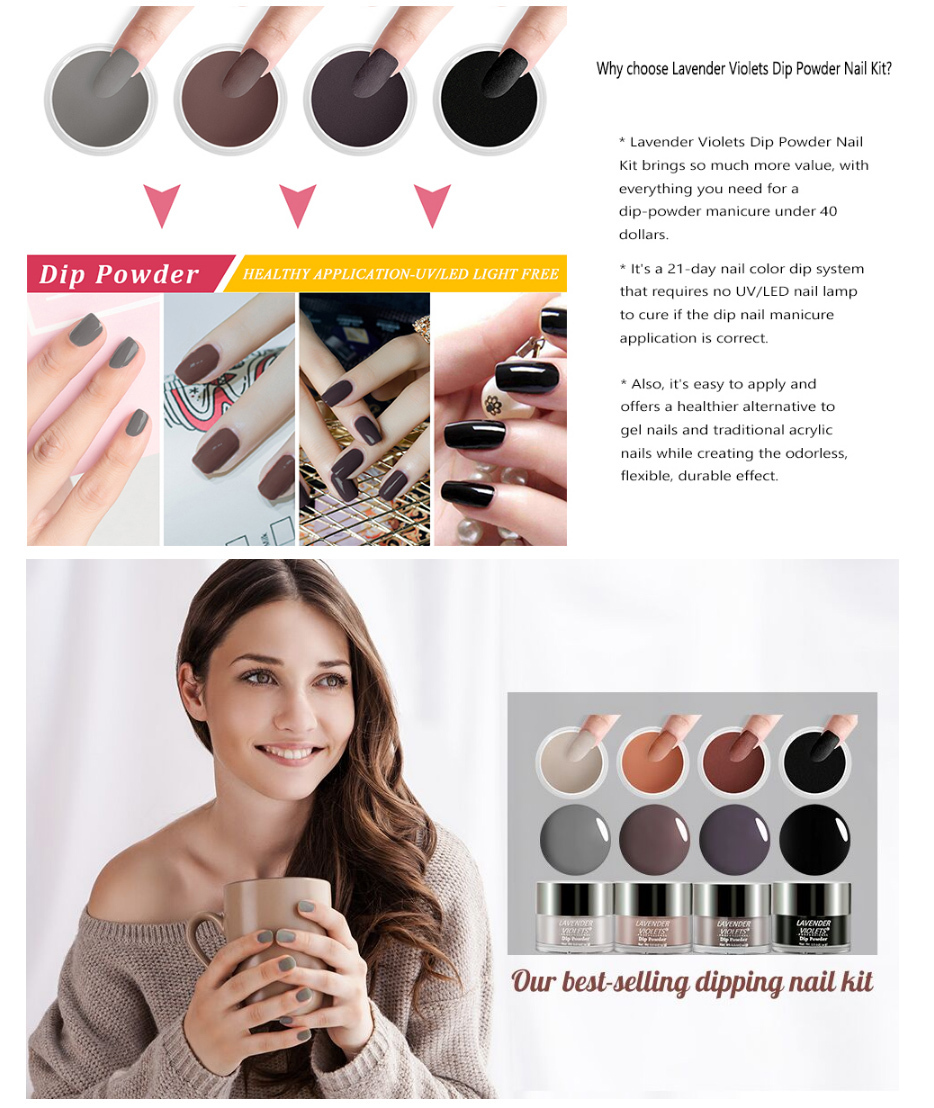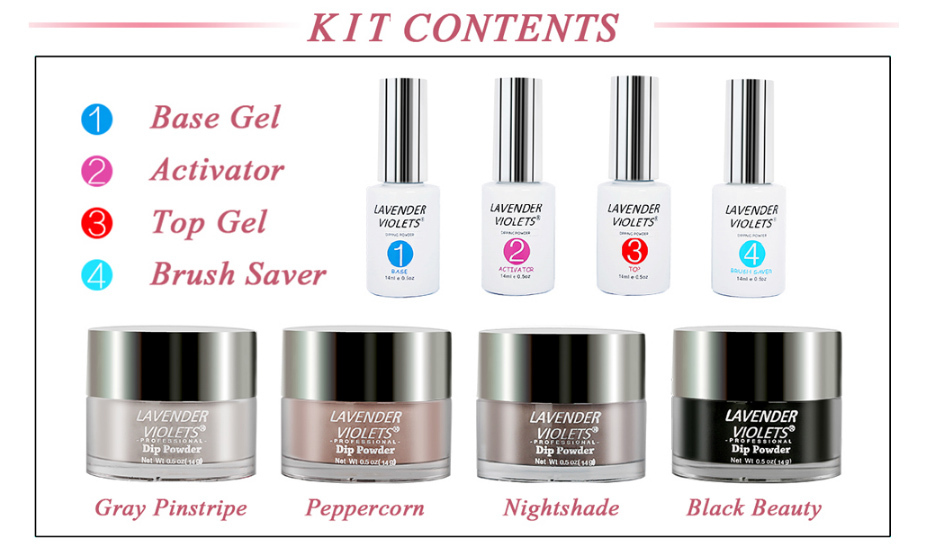 ByEllen AndersonMonday, 10 August 2020
ByTinamaryevansThursday, 22 August 2019
I've been doing my own UV lamp gel nails for a few years now and consider myself to be able to do them pretty much flawlessly every time. I've used the dip nails twice now first time they did chip off so I don't think my technique was perfect however I've read some tips online which weren't in the instructions such as do the dipping a 45-degree angle and also the way you use the brush yourself and second application is much better. I think you do need to set some time aside to do this and it takes longer than gel nails because you have to do each nail at a time but once you've got used to it you can speed up. my natural nails are so paper thin and where is shellac made them tough and solid The dip nails make them absolutely rock solid which means that I don't have the problems I did with shellac such as banging my nail and then the flexibility of my natural nail causing damage to the shellac I think these are going to be pretty solid. an added benefit is how easy they are to remove. with shellac I find that you soak them using the foil and using the cotton wool and you still need to do some scraping with the cuticle stick with this stuff it pretty much came off in one go a couple of know they had to do a second time but then the whole lot was removed easily and then I did an extra wipe of acetone soaked cotton wool pad just remove all the remainder it seems much healthier for my nails than UV gel. Very pleased I got this product I'm looking forward to getting some more colours as with any nail product preparation really shaky and I would recommend having a multi sided nail file or even better a selection of different ones some fingernail clips which used to remove gel with afterwards a very useful much easier than using tin foil my advice would be to watch some YouTube videos and read a couple of articles online as well because the instructions were good but they're also extra hints and tips that you'll find from other people have used it I'm definitely converted to dip instead of UV gel now and can't imagine putting my hand under that horrible drying lamp again
ByAlexandra JudgeTuesday, 13 August 2019
Love these so easy to use and quick to do would definitly recommend ill be buying again
ByjamesyThursday, 30 May 2019
ByWeronikaWednesday, 15 May 2019
I'm very happy with products! Effect is very durable and looks beautiful :)
BysiouxTuesday, 14 May 2019
BypdotsanMonday, 06 May 2019
I used to always go get my nails done, now I have my own kit, I do it myself.. the instruction is easy to follow and doesnt take long to apply and dry either. I would recommend this product.