6 Colours Gel Nail Polish Soak off 8 ml Professional UV LED Gel Polish Gift Set Lavender Glitter DC19
4.83
stars, based on
6
reviews
Price:
$20.00$14.99 / box
Contact Us
Item specifics
Type:
Soak Off Gel Nail Polish
Colour:
Purple,Purple Glitter
Effect:
Glitter,Sequined,Nude color
Capacity:
6 x 8ml Gel Polish
不能存图片
For salon customers, please contact our customer service staff for the wholesale price list.

Email address:

service@lavenderviolets.com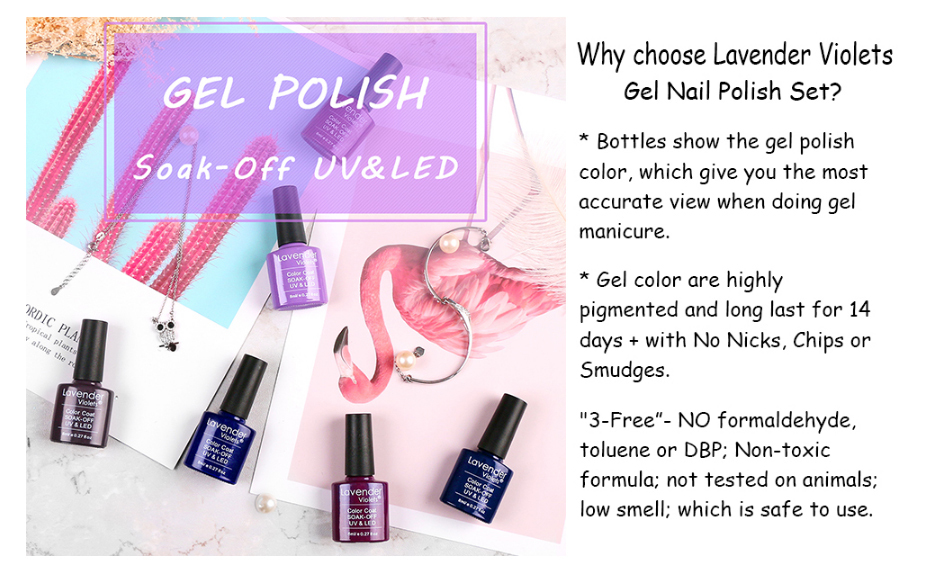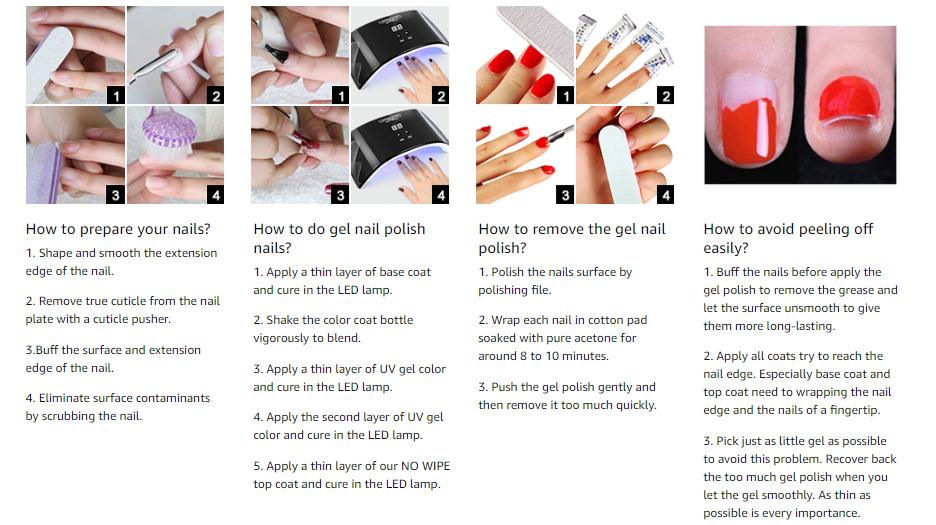 ByJorene Adcock Thursday, 14 May 2020
I recently bought one of lavender violets 6 polish sets on Amazon. It is amazing! I have tried tons of other gel polishes including some very expensive ones. Every single Lavender Violets polish I have tried blows all of the others out of the water. They work well on natural nails and polygel nails. I highly recommend their polishes!
ByAleksandraThursday, 15 August 2019
A week after applying and still staying strong :) i work with metal daily and normal nails just dont stand a chance to be long and pretty but thanks to them polishes im able to have great nails :) im not a professional and just starting my journey but it was the only option for me not having nails as short as my husband :)
ByMaFe JaramilloMonday, 01 July 2019
I'm impressed by the relationship price-quality of these gel nail polishes! The colors are true to the ones showed in the ad and the size of the bottles is good as well. I worked three layers to get a really bold color and it lasted two weeks without chipping. Will definitely buy again!
ByTykaTuesday, 11 June 2019
The colours are way more better in life than on photo. I absolutely love them and will buy different colours as the quality is perfect too. Thanks a lot!
ByRonald GreenwoodTuesday, 14 May 2019
I love these nail varnishes, fab quality, colours are great, I wouldnt hesitate in purchasing even more colours from Lavender Violets
Bysarah mcnamaraTuesday, 07 May 2019
I was really worried after buying these as some of the comments were not good but after trying them I was pleasantly surprised. The colours are very nice and I'm very impressed and glad that I made this purchase would recommend